---
---
LTD model now available with 3 pc cranks and chromo frame and fork. The 24" Commando cruiser bike is super durable and super fun to ride. A modern geometry makes this easier and more fun to ride than its predecessors. The Commando is a throwback with cool retro details like a layback seatpost, big front-end gussets and retro fork dropouts. We updated this classic style with features like Eastern's laser cut head tube logo, Eastern logo tires to smooth out the streets and trails, alloy sprocket and flangeless Eastern Riblet grips. The Commando will turn heads everywhere it goes. Not intended for tricks or jumping.
---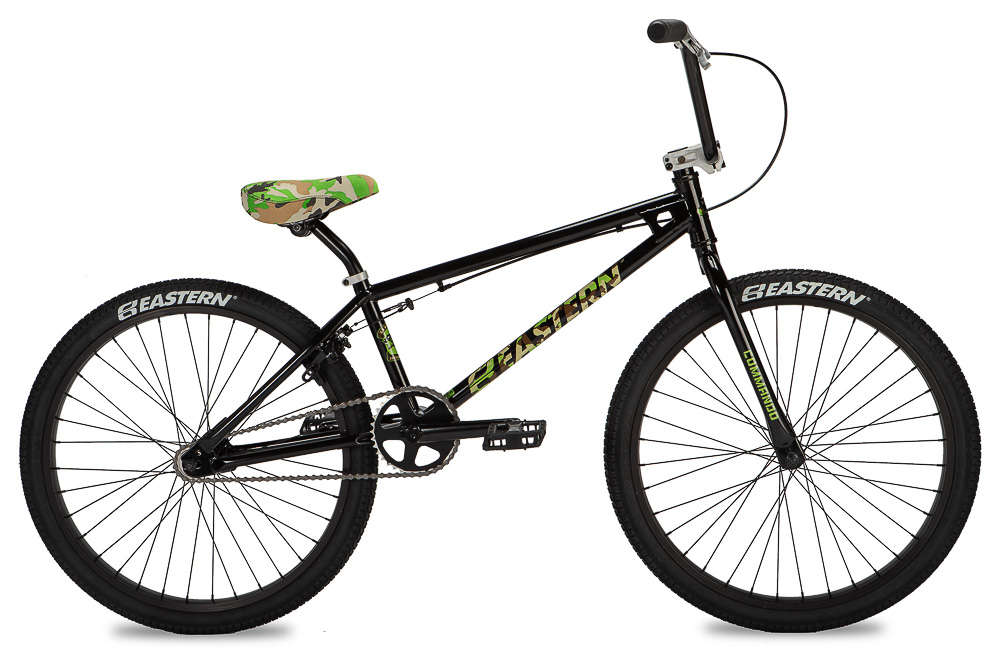 Limited Models
Chromoly Frame and Fork
3-Piece, Tubular Heat-Treated Chromoly Cranks
Regular Models
Hi-Tensile Steel Frame and Fork
Forged 1-Piece, Heat-Treated Chromoly Cranks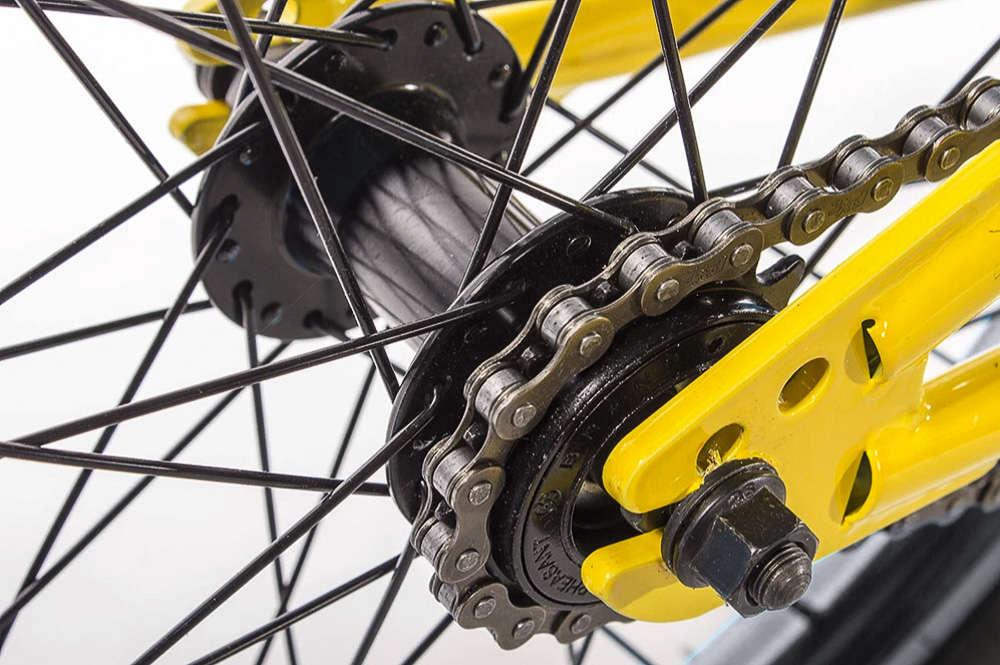 Hi-end sealed bearing rear hub for a smoother ride and less maintenance.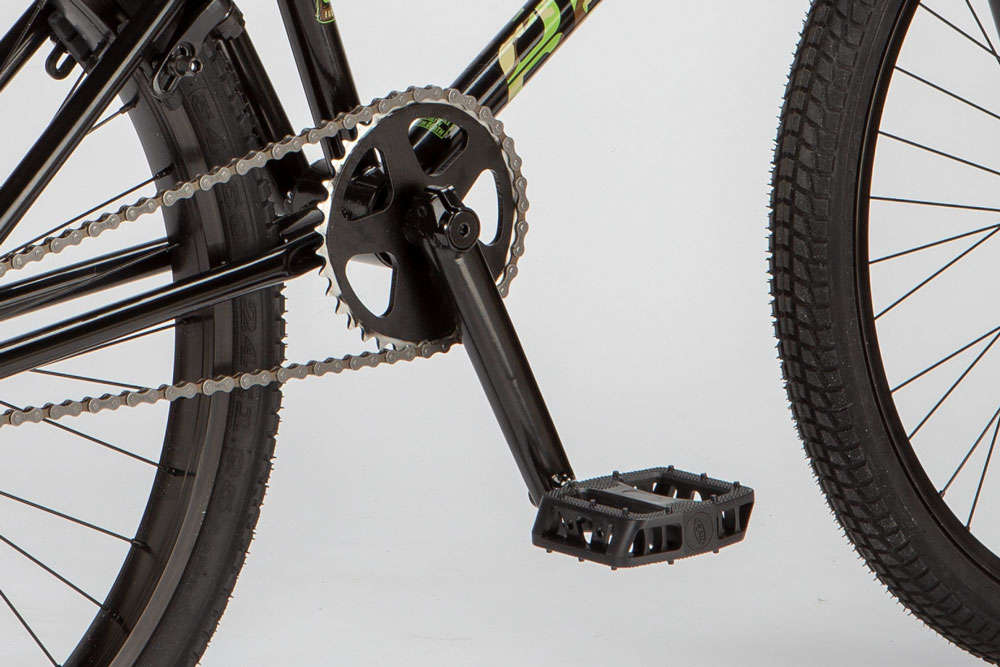 Aftermarket Eastern Atom Cranks made from heat treated tubular chromoly for optimal lightweight strength.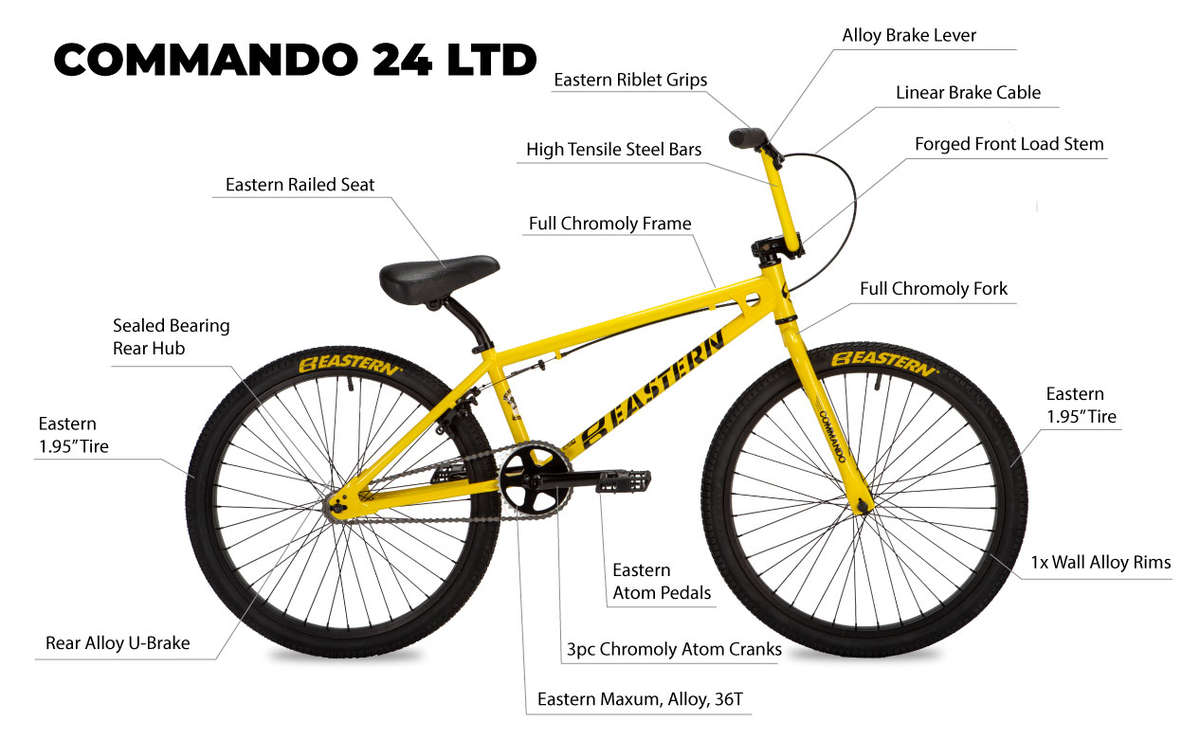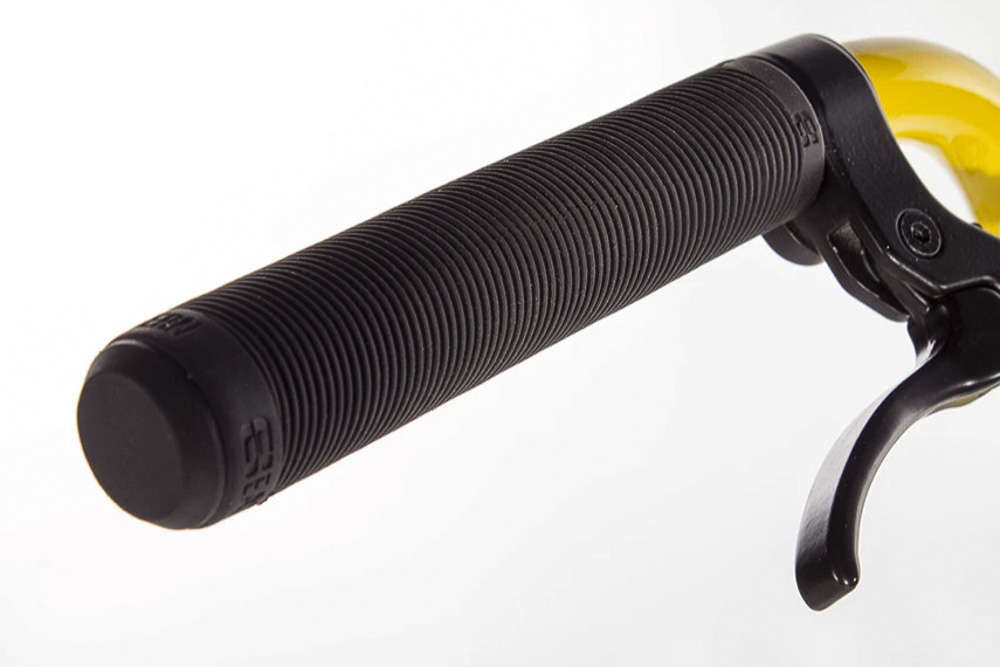 Grippy and comfortable, the classic flangeless mushroom design is the same grip used by our team.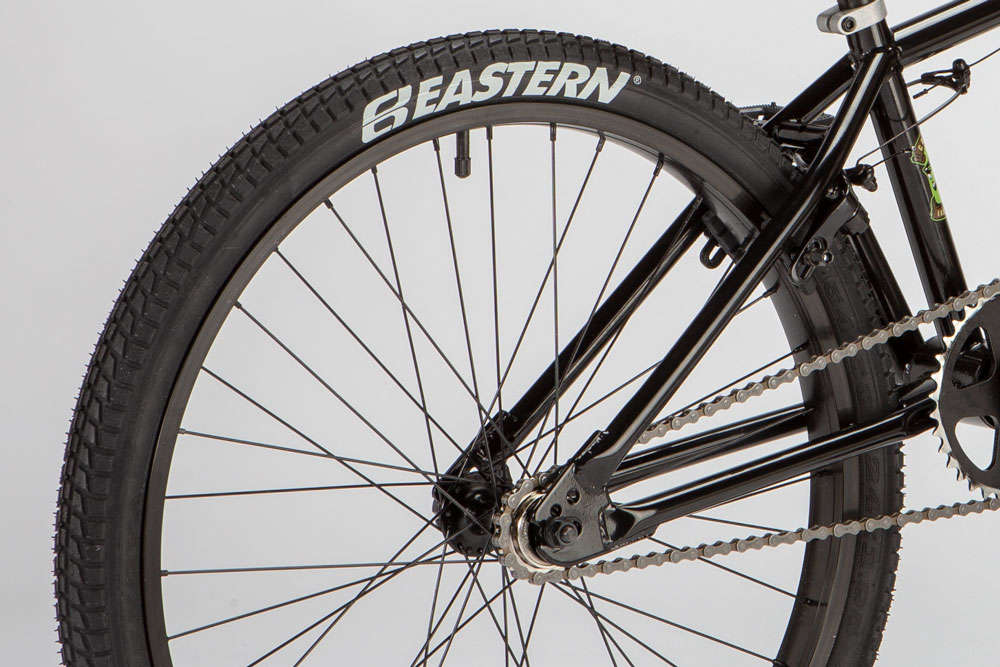 Growler Specs
FRAME
Hi-Tensile Steel, AM BB, Aheadset: Limited has Full Chromoly Frame
Top Tube Size: 22″(24") - 20.5″(20") - 16.3″(16")
BB:AM
Headtube: Aheadset
Chainstay Length: 15.4″(24") - 14.75″(20") - 12″(16")
Clamp: Alloy Bolt Clamp

BARS
Commando V Bar, Hi-Tensile Steel
Upsweep/Backsweep 11⁰/3⁰ (24") - 15⁰/1⁰ (20") - 11⁰/1⁰ (16")FORKCommando V Bar, Hi-Tensile Steel
Fork Rake: 32mm


HEADSET Aheadset


STEM Forged Alloy Front Load Stem


GRIP Eastern Riblet Grips


CRANK
3-Piece, Heat-Treated Chromoly, 175mm (24" Limited)
Forged 1-Piece, Heat-Treated Chromoly, 175mm (24")
170mm (20")
140mm (16")Arm Length


BOTTOM BRACKET American Ball Bearing: Limited Edition alloy cups with sealed bearings


CHAINWHEEL Eastern Maxum, Alloy, 36T


CHAIN KMC Z410 1/2 x 1/8


PEDAL Eastern Atom Plastic Pedal with 9/16" Axle


FRONT BRAKE N/A


FRONT LEVER N/A


REAR BRAKE U-Brake, Forged Alloy, Wide Body, Clear Brake Pads


REAR LEVER Forged Alloy Lever


BRAKE CABLE [S] LINEAR


SADDLE Padded Seat with Railed Supports


POST Steel 25.4 x 350mm


FRONT HUB Ball Bearing, Steel Shell, Drilled for 36 Spokes(24" 20") - 28 Spokes(16"), 3/8" Axle


REAR HUB Sealed Bearings, Forged Alloy Shell Drilled for 36 Spokes, 3/8" Chromoly Axle with 16 Tooth Freewheel Cog


FREEWHEEL 16 Tooth Freewheel


FRONT RIM Alloy, Single Wall, Drilled for 36 Spokes(24" 20") - 28 Spokes(16")


REAR RIM Alloy, Single Wall, Drilled for 36 Spokes(24" 20") - 28 Spokes(16")


SPOKES 14 Gauge with Brass Nipples


FRONT TIRE 24×1.95 (24") - 20×2.3 (20") - 16" (16")


REAR TIRE 24×1.95 (24") - 20×2.3 (20") - 16" (16")


PEG none


Bikes are designed for riders 13 years old and up. *This pricing valid in USA only. Specs & pricing Subject to Change


*NOTICE: Once a bike ships the order can not be refunded